On Tuesday, February 14th, the White Hall School District held the February School Board meeting. The Board recognized students for outstanding achievement.
Geoffrey Gallinero, the White Hall District Spelling Bee Champion, was recognized for winning the Jefferson County Spelling Bee. He will compete in the Arkansas State Spelling Bee on March 11, 2023. Congratulations, Geoffrey!
The White Hall Middle School and Freshman Quiz Bowl teams. The middle school team was recognized for winning the 2023 5A Southeast Regional Quiz Bowl Tournament. The freshman team won 2nd place in the tournament. The quiz bowl team includes Lincoln Hood, Jacob Clingan, Robert Carrillo, Braden Drye, Vaughn Farrar, Virginia Smart, Ava Bonds, Kaitleen Toh, Ishika Patel, Xavier Trammell, Jack Ghotra, Chris Fallis, Mary Catherine Smart, Aubrey Cody, Keylee Via, Mausoof Zobaer, Jacob Works, Alexandria Moring, Arabella Sloan, and Brylea McDaniel The team is coached by Nita Wimberly and Sarah Breedlove. Lincoln Hood and Jacob Clingan, 8th-grade students at White Hall Middle School, were the All-Stars players of the tournament, and Lincoln Hood was named tournament MVP.
In addition to student celebrations, the School Board also approved the 2023-2024 school calendar. The calendar can be found on our website, www.whitehallsd.org.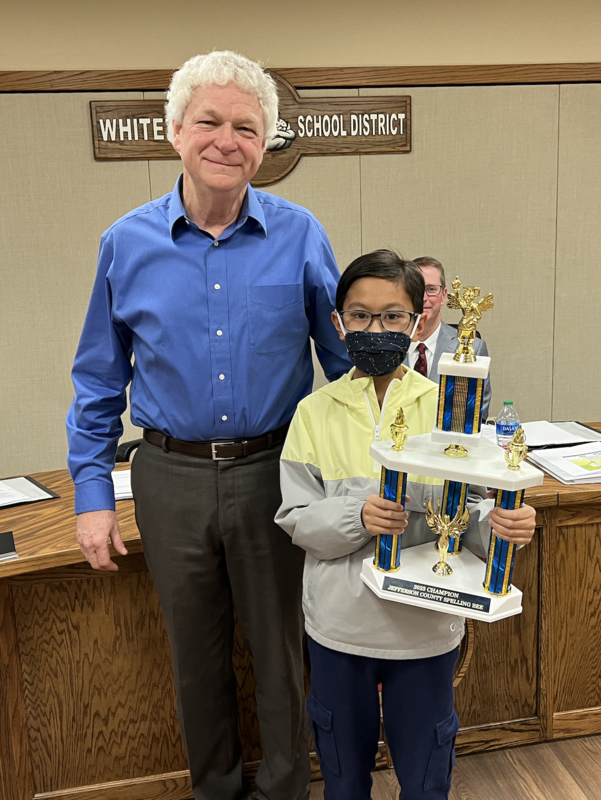 Dr. Jones and Geoffrey Gallinero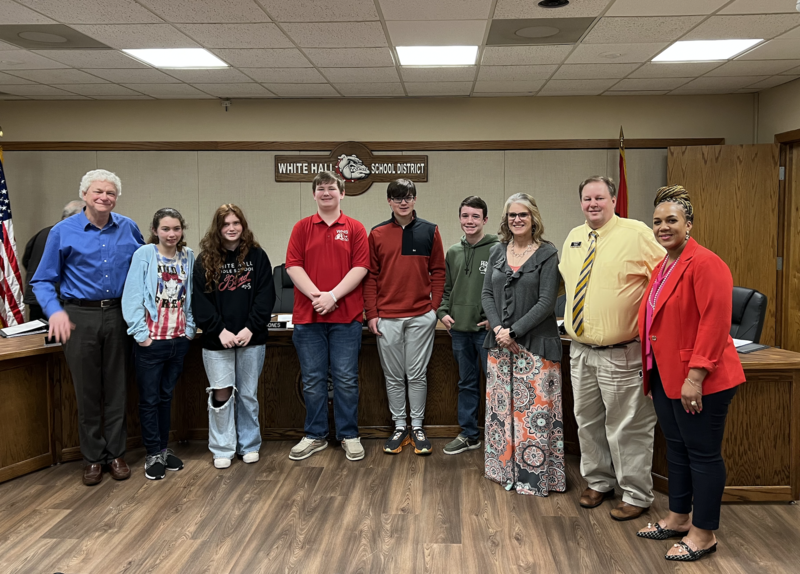 Dr. Jones, members of the Quiz Bowl team, Mrs. Wimberly, Mr. Davis, and Mrs. Lovelady