EDIT MAIN
Overview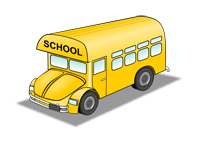 The White Hall School District will constantly strive to safely provide the most efficient and effective transportation to and from home for the students of the district. In order for us to be successful, there must be collaborative effort between all stakeholders of the district. Therefore, we solicit and welcome your feedback on how we can best serve our students and this community.
We will provide transportation for students who live two or more miles from their assigned school. Also, transportation may be provided for smaller children who live less than two miles from their school if the density of traffic presents a safety hazard.
Riding a bus is a service that the district provides to our students. It is important to note that riding a bus is a privilege and not a right. Bus transportation is an extension of the classroom and will be treated as such. Therefore, students are expected conduct themselves in a manner that allows for a safe and orderly experience for both the driver and other riders. Failure to follow the policies and or expectations of the driver could result in the student being disciplined up to a loss of riding privileges.
The district will publish a route schedule on the WHSD webpage. If additional information is needed or desired, please give us a call at (870) 247-2171.
Cedric Hawkins
Transportation Director
870-247-2171
Jackie Mossberg
Secretary to Transportation
870-247-2171
Mark Stanfield
Head Mechanic Bus Garage
870-247-3564
Tony Law
Assistant Mechanic Bus Garage
870-247-3564