EDIT MAIN
FCCLA
L. Martin, Sponsor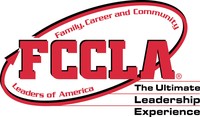 FAMILY, CAREER AND COMMUNITY LEADERS OF AMERICA - FCCLA
FCCLA is an effective student organization that is dedicated to teaching young men and women to become leaders while making a difference in the lives of families, careers, and communitites by addressing important personal, work, and social issues through family and consumer science education.
Any student who is taking or has taken a family and consumer science course is eligible to join. Students expand their leadership potential and develop skills for life-planning, goal setting, problem solving, decision making and interpersonal communication.
Students may participate in one of FCCLA's national programs like Star Events and earn recognition by competing at local, district, state, and even national levels. They may develop a community service project, attend state conventions to get new ideas about how to improve themselves, meet new friends, and have fun.