EDIT MAIN
Library Media Center
WEB BASED ACCELERATED READER
Students NOW have access to all test through the internet!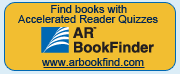 ALSO ACCESS OUR ON LINE CIRCULATION SYSTEM
SEE IF THE BOOK YOU WANT IS IN THE LIBRARY
Student Resources –Early World of Learning (World Book)
Enciclopedia Estudiantil Hallazgos
Kids Search (EBSCO) searches of Middle Search Plus, Primary Search, Newspaper
Source, TOPICSearch, EBSCO Animals, & Funk & Wagnalls New World Encyclopedia together
Middle Search (EBSCO)
Novelist, K-8 Fiction reviews
Primary Search (EBSCO)
Searchasaurus (EBSCO) access to Middle Search Plus, Primary Search, Encyclopedia of
Animals, a general dictionary and encyclopedia in a single search
TOPICsearch (EBSCO)
game day fun

Students who met their AR goal for the 2nd nine weeks were invited to bring their hand held games to the library during their recess time. Refreshments were provided and fun was had by all!

Fun In the Sun!

Students who met their Accelerated Reader Goal for the third nine weeks were rewarded with a "Fun in the Sun" party that included ourtdoor activities and treats.
Mo Willem's silly pigeon. Fun!
Features the pigeon and other loveable characters from Mo Willem's popular children's books. Includes fun games and activities.
Favorite Characters and Authors
Listen to Bhttps://www.storylineonline.net/library/ooks
Here you can listen to some really good books being read aloud.